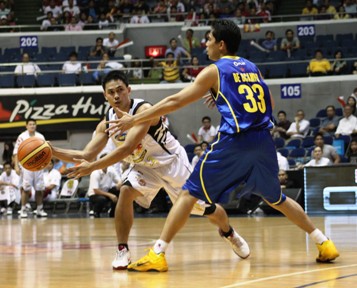 source:
By Calvin Cordova
Cebu Daily News
The Talk N Text Tropang Texters are in the Finals for the eighth time after they dethroned the defending champions Derby Ace Llamados, 89-72, last night in Game 6 of their best-of-seven semifinal series of the 36th PBA Philippine Cup at the Araneta Coliseum.
"The game was a lot harder than the score indicated," said Talk N Text head coach Chot Reyes after sealing his 10th Finals appearance.
Reyes is eyeing to give Talk N Text its third title since joining the league in 1990. The Texters bagged their first championship crown under former coach Joel Banal. They got their second crown under Reyes in 2008.
The Texters wrapped the series, 4-2, with a blistering attack in the third quarter, where they broke the game wide open after a close first half.
Talk N Text ended the third with a huge 73-53 lead after closing the first two quarters of play with a slim 42-35 lead.
Talk N Text led by double digits the rest of the way to seal the 17-point victory.
Ali Peek led the way for the Texters with 19 points, while Jason Castro and Aaron Aban added 18 and 14 markers as Talk N Text once again got a superb performance from the bench to the pull off the victory.
James Yap topped the Llamados with 16 points, Rico Maierhofer and Peter June Simon donated 15 apiece, while Marc Pingris had 10.
The Texters will next play the winner in the other series between the San Miguel Beermen and the Barangay Ginebra Kings.