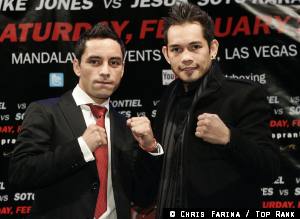 source: abs-cbnNEWS.com
MANILA, Philippines (2nd UPDATE) – Filipino bantamweight boxer Nonito "The Filipino Flash" Donaire proved himself relentless after dethroning Mexican opponent Ferdinand Montiel in their headliner fight at the Mandalay Bay Resort in Las Vegas, Nevada, Saturday night (Sunday morning in Manila).
In a quick match, Donaire stopped Montiel via a technical knockout (KO) in the second round.
In the first round, Montiel showed that he has experience and skills in the division by consistently evading Donaire's attacks.
Donaire kept being aggressive but his punches failed to land on Montiel.
In the second round, Donaire then played it down by accepting Montiel's attacks. The Filipino played with his improved defense and evaded the countering Montiel.
A minute before the round concluded, an energetic Donaire then powered a left hook to Montiel's face knocking him down to victory.
With the win, the 28-year-old bagged the World Boxing Council and World Boxing Organization bantamweight crowns.
Donaire now ups his record to 26-1 with 18 KOs.
Montiel, on the other hand, falls at 44-3-2.
Montiel cannot make the post-fight press conference as he was sent to the hospital.
According to a tweet by Top Rank promotions, Montiel "was sent to the hospital to be checked due to the way he was knocked out."
Expected triumph?
After the match, Donaire said he had already been aiming to finish the fight early as soon as he knew that his fight against the Mexican would push through.
"When I found out I would fight Montiel, I said '2nd Round' and I used that to motivate me to not be afraid," he said in a Top Rank interview.
The "Filipino Flash" said he has indeed given his all in the match
"I put everything in that punch... surprised he got up. That was my hardest punch. My best punch in my career," he said of Montiel, his "most complete" foe to date.
Donaire has also stunned the boxing world with another quick match against Wladimir Sidorenko last November. The Filipino stopped the Ukranian via a 4th round knockout.
'Stunning'
According to ABS-CBN News North America correspondent Bev Llorente, boxing experts and fans at the Mandalay arena were stunned to witness such quick fight.
"Hindi nila inaasahan kasi world champion itong si Montiel. Nasa kanya pa iyong dalawang crowns," she said on ANC's Dateline Philippines.
"They were expecting na umabot man lang ng 6 rounds or 10 rounds. But it seems that hindi kinaya ni Montiel ang lakas ni Nonito," she added.
Meanwhile, boxing analyst Dennis Principe, said that he himself was shocked with how quick the fight ended.
"Actually I was expecting Nonito to knock (Montiel) out, but I was expecting a tough fight," he said in a live interview on Dateline Philippines.
Principe said that with the victory, Donaire has levelled up in the sport.
"Donaire just proved that he's the next best thing to come out of the Philippines after Manny Pacquiao, and a star is born," he said.
Donaire kept the Philippine flag waving along with compatriot "Mighty" Mark Jason Melligen, who defeated Mexican Gabriel Martinez.
Melligen won over Martinez by a unanimous decision in their welterweight bout in an undercard match. – With a report from Barry Viloria, abs-cbnNEWS.com, and Bev Llorente, ABS-CBN News North America correspondent