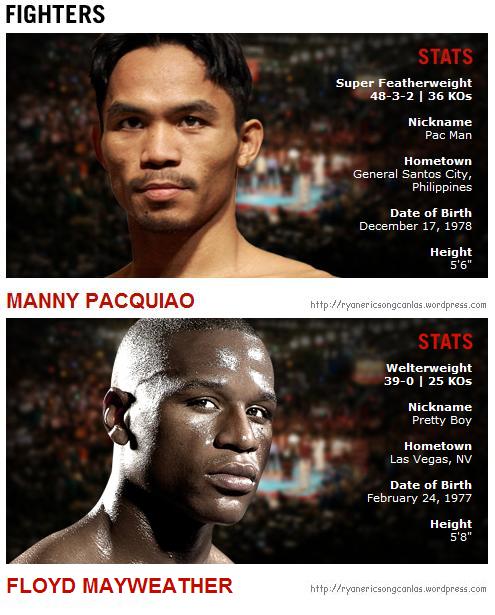 source: gmanews.tv
For the nth time, Floyd Mayweather Jr. indicated in a subtle way how he loathed a meeting with Manny Pacquiao inside the ring.
Top Rank promoter Bob Arum disclosed how Floyd Jr. priced himself out of another possible clash with the sensational boxing superstar from the Philippines by demanding a hefty purse for himself.
And his suggested self-worth? A whopping $100 million.
"That's right. That's for himself," Arum said shortly after watching Pacquiao does his thing in training camp at the Shape Up gym of the Cooyesan Hotel in Baguio.
"Pay him $100 million? Unless Manny fights for nothing, how can you do the fight?"
Talks of a possible showdown with the 32-year-old Pacquiao were revived recently following a discussion between Arum and rival promoter Don King.
Pacquiao is currently the face of Arum's Top Rank Promotions, while Mayweather, although not officially being represented by King, has turned to the eccentric promoter lately on decisions pertaining to boxing.
"We (King) went through with the negotiations and nobody really knew about it," Arum recalled. "Then some group came in saying they plan to have it in a particular country. And Mayweather asked for a figure that was so high it was practically an indication that he didn't want to fight."
The ploy is just the latest in a series of major excuses advanced by the 32-year-old Mayweather in an obvious attempt not to make possible the fight many projected could go down as the biggest and richest in the history of prize fighting.
The brash, unbeaten American earlier demanded that he and Pacquiao undergo Olympic-style drug testing. This transpired in two failed attempts in the past to arrange the bout pitting two of the biggest draws in boxing today.
Now that another opportunity has cropped up for the fight to happen, Mayweather, a bronze medal winner in the 1996 Atlanta Olympics, found another way to make himself unavailable.
"He's not asking for the moon," added Arum, 79. "He just can't say no. He doesn't want to fight. So, you price your way out of it." -
KY, JVP, RCJ, GMA News