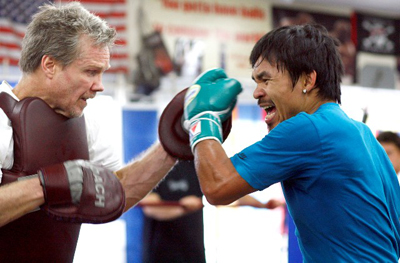 source: By EDDIE G. ALINEA/
malaya.com.ph
BAGUIO CITY. – Manny Pacquiao resumed his roadwork on Wednesday, took his breakfast at mid-morning and then slept till 2 p.m., reporting for his workout with trainer Freddie Roach late by nearly two hours.
He stayed up to midnight of Tuesday, going to bed only after wrapping up the taping for his latest commercial endorsement.
Roach didn't mind but he made the world welterweight champion work for 12 rounds on the mitts, Pacquiao nearly dead-tired when the session ended.
Sparring sessions resume Thursday, with Pacquiao set to go four rounds each against welterweight contender Shawn Porter and lightweight David Rodela.
Earlier Wednesday, the eight-division title holder ran five miles inside the hilly Sta. Lucia Subdivision to the amazement of strength and conditioning coach Alex Ariza. Pacquiao missed the stamina-building roadwork on Tuesday.
"I just cannot stop being amazed at where he's getting his strength. Imagine seeing him running through a steep 45-degree hill for a mile on the way to the Cooyeesan Hotel," Ariza said. "And to think he just finished running the routine five miles we prepared for him."
"That only showed how strong he is," Roach butted in. "Well, as I have been saying, even days before we plunged into sparring, Manny had already regained his power and speed.
"The only minor problem confronting us at this stage is his timing and how to keep his distance from his opponent," Roach said.
Pacquiao, 32, stakes his 147-pound crown against Shane Mosley on May 7 (May 8 in Manila) in Las Vegas.
"But we intend to make improvements on those aspects before we leave for Los Angeles (this coming Saturday)," Roach said. "The idea is to reach near perfect condition before leaving Manila and polish everything when we get to LA."
The team leaves for Manila on Friday evening.