source: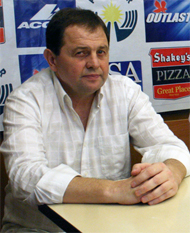 gmanews.tv
Pilipinas-Smart Gilas is looking forward to play in front of hometown fans in the
FIBA-Asia Champions Cup
on May 28 to June 5 at the PhilSports Arena in Pasig City.
And Gilas coach Rajko Toroman believes his wards are not pressured playing at home in a big international tournament.
"It's positive pressure. It will be the first time all Filipinos will cheer for us,"
said the Serbian coach. Gilas rarely plays at home, usually seeing action in front of huge crowds composed mostly of Overseas Filipino Workers (OFW) abroad.
While the team may be playing in the PBA Commissioner's Cup, local crowd support is not something they are used to yet, since they are against crowd darlings
Barangay Ginebra in the semifinals
.
"We have games against Ginebra, most of the crowd is against us. In the FIBA-Asia, this will the first time that the crowd will be with us,"
said Toroman.
Gilas is a guest team in the PBA Commissioner's Cup but they are eligible to win the title.
"It shows in the PBA that we are competitive and we are improving. We are playing good basketball and I think all Filipinos recognize that,"
said Toroman.
Meanwhile, Toroman said that PBA players need to join them early if they want to don the national colors when the team competes in the FIBA-Asia Championship in Wuhan, China this September.
Toroman has suggested the inclusion of Talk 'N Text's Jimmy Alapag and Kelly Williams, Meralco's Asi Taulava and Air21's Dondon Hontiveros in Gilas' line-up for Asia's qualifying match for the 2012 London Olympics.
Toroman said, however, that the players need to be with the team as soon as possible.
"They have to join us. We are planning to go to Turkey to play some games before the FIBA-Asia Champions Cup as well as some invitational tournaments and the Jones Cup,"
said Toroman.
- Reuben Terrado, JVP, GMA News