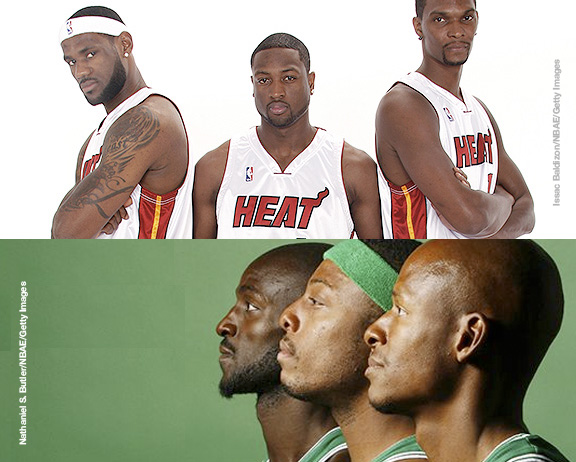 source: By Brian Windhorst / ESPN.com
MIAMI -- It is said, and with good reason, that in the postseason the more desperate team often wins.
The
Miami Heat
were desperate to beat the
Boston Celtics
on Sunday because, in many ways, it was their season. They tried before the game with clichés to insulate themselves in case there was another loss. Then after the win, they played it cool, acting as though it was routine.
But their actions and on-court emotions told a different tale. The Heat's desire was as clear as the spring skies over South Florida. It showed in their effort, it showed as they racked up emotional technical fouls and it even showed when
Chris Bosh
protested a call so vigorously that he coated 3 square yards of the court with spittle.
The Heat played like they were in an elimination game. And because of their 100-77 victory, they are very much alive.
For a moment, forget the potential playoff seeding and home-court implications the game had. Skip to this reality: How could the Heat go into the playoffs having gone the entire regular season without a win over either the Celtics or the Chicago Bulls and still genuinely believe they could win the Eastern Conference?
No matter the spin doctoring, they couldn't. They don't have the championship pedigree of the Celtics or
Los Angeles Lakers
. Another loss and the Heat would have been facing a confidence crisis and not just because their failures would've been broken down on "SportsCenter." It doesn't make them weak, it makes them human.
It's true the Celtics may have some soul-searching to do. They simply are not used to getting hammered by rivals by double-digits twice in the same week as happened to them with the Bulls and Heat. They're alarmed by the recent trends and some unexpected troubles, like the continued lackluster play of
Rajon Rondo
. But ultimately, the Celtics have vast reserves of experience that can buttress them when the postseason starts. The Heat simply do not.
Sunday's victory, which gave Miami a one-game lead on Boston for the second seed, can be neutralized in the standings by a Heat slip-up Monday in Atlanta. Or, next month, by one of those road playoff wins the Celtics have loaded their résumés with. But nothing can wipe away what the Heat proved to themselves.
They had been dealing with the Celtics demon since October when their opening-night dud in Boston contributed to their getting off to a slow start that they've been trying to dig out of for months. The last time the Celtics were in Miami,
Paul Pierce
smacked them on Twitter by dragging out LeBron James' "taking talents to South Beach" line. It was some great trash talk because the Heat literally had no comeback.
The last time they met -- in February in Boston -- the Heat were rolling as they arrived as winners of eight in a row. They thought they were ready to win and show they'd arrived. Instead they left with another defeat, trudging to the airport with the same pangs of uncertainty that chewed at them during their dark days this season.
So, again, with the final regular-season meeting on their floor with the entire team announcing they were treating the season's last week like a series to win the No. 2 seed, well, there was no way to absorb another gut punch.
"They had beaten us three times, this was out first time together that we've beat them," Dwyane Wade said. "It was getting over that hump; you need to see you can perform and play well and beat them. We had our chances in the other games, we weren't the team that they were. Today we proved we're a much better team than we were in the previous three."
Ultimately, the better team will be determined in the second round in about two weeks as long as both teams handle their business against lower seeds. When it comes time for that matchup, though, the Heat will have something to draw on.
The Heat earned that with hustle and with work. Even after falling behind early when the Celtics made their first six shots and the "same old, same old" feeling came knocking, the Heat's energy was indeed at playoff level.
James and Wade were blurs not just running the floor on fast breaks but on time, leaping into passing lanes and challenging shots and hurling themselves into rotations. Their teammates, who frankly have not been at their expected level all season, followed suit.
Joel Anthony
was better than any Boston center, and
Mario Chalmers
stunningly outplayed Rondo. Even
Juwan Howard
contributed.
It can't be assumed those reserves will deliver like that throughout an entire playoff series, but their effort level could make a major difference for a Heat team that has been searching for a cushion behind its three All-Stars for months.
"We wanted this one," said Chalmers, who had nine points. "We have reached a point where there is no return."
By going with the standard defense against Rondo these days -- playing off of him and blocking the paint while daring him to shoot -- the Heat were able to stuff the Celtics' offense in the half court. In the Celtics' three previous wins against the Heat, Rondo averaged 14.3 assists as he was able to penetrate and dish his team to easy baskets. On Sunday, Rondo had just five assists and the Celtics scored 18 fewer points than their average against Miami this season.
Taking advantage of the Celtics' issues at center, Anthony and
Zydrunas Ilgauskas
combined for 15 points and 15 rebounds. Eight of their rebounds were on the offensive glass, a direct sign of effort, as the Heat racked up 18 second-chance points.
James had 27 points, but just as important were his four steals, which helped the Heat get their transition game going. Eight of James' 11 baskets came at the rim as he challenged Boston's interior defense, which has proved to have some more holes than in the past.
Wade shot just 4-of-12, but his defensive intensity -- especially racing back to block what looked like a
Ray Allen
breakaway layup -- inspired his teammates. With the Celtics trying to clog driving lanes, Wade also had to become a distributor, and did so with eight assists.
It was all just one game, yes, but one game the Heat had to have.
"The things they've been through throughout the year, it seems as though they have gathered some tough skin," Kevin Garnett said. "It showed tonight."