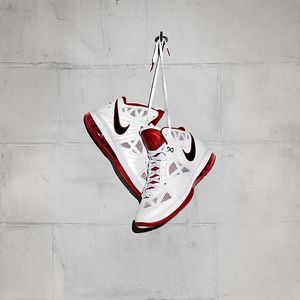 source:
MIAMI -- The NBA playoffs are here. You know what that means.
Different atmosphere. Different playing style. Different … shoes?
That's the way Miami Heat teammates LeBron James and Dwyane Wade are going, as both are switching kicks for the 2011 postseason.
And apparently it's not just about look. Unveiled Friday were James' new LeBron 8 PS -- the third of three different models for the 2010-11 season, and by far the lightest (2.4 ounces less than the first version).
That lightness, naturally, makes a difference as legs are more tired from Game 83 on.
"When you get to the end of the season, you need something different,"
Wade said last week at the unveiling of his first signature shoe under the Air Jordan brand (said to be the lightest Jordan shoe ever).
"Your legs are a little tired. You need something to give you more of an edge. If you can get a little lighter anywhere -- especially in your feet -- it helps you with your explosiveness, it helps you with your quickness."
That goes especially for the end of those playoff games.
"All of a sudden you've got a little bit of extra energy, because you haven't been carrying around this extra [weight],"
8 PS designer Jason Petrie said. "Your body's going to be a little bit fresher."
Petrie considers James something of a pioneer in the just-for-playoffs movement, releasing a new postseason shoe each of the past few years. This is the first year of three LeBron designs, though, with the second one (itself a bit lighter than the first) unveiled for the team's Christmas Day game against the Los Angeles Lakers.
But in truth, it's more than one, two or three pair. For the James and Wade, each specific set -- no matter the model -- lasts about 48 minutes.
"You almost want a shoe that self-destructs as soon as the game is over,"
Petrie said.
Said Wade:
"I'm one and done. I'm like the college kids."
Other Recommended Posts on basketball, nba