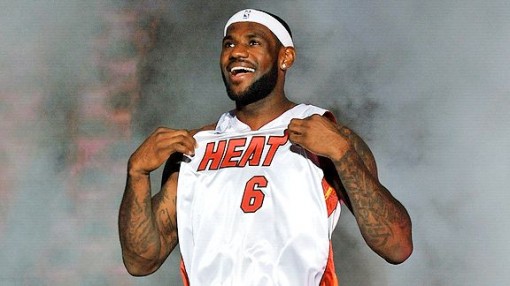 source: By
Michael McCarthy
, USA TODAY
Maybe LeBron James is not as unpopular as some fans think he is. The Miami Heat superstar has passed Kobe Bryant of the Los Angeles Lakers to take over the No. 1 spot on the NBA's best-selling jersey list this season. The list of most popular jerseys is based on consumer sales at NBAStore.com.
James damaged his image when he used ESPN's nationally televised TV special, The Decision, to publicly dump his former club, the Cleveland Cavaliers, and his home state fans in Ohio for the bright lights of South Beach. But King James' image could be rebounding based on strong sales of his No. 6 Heat jersey.
It's the first time in seven years James has grabbed the top spot. Bryant's No. 24 jersey has had a stranglehold at No. 1 since the the 2008-2009 season.
In another surprise, Rajon Rondo of the Boston Celtics has cracked the Top 3 for the first time. Five Celtics stars -- Rondo, Paul Pierce, Kevin Garnett, Ray Allen and Shaquille O'Neal -- rank in the Top 15 best-selling jerseys. That's the first time five players from the same club have made the list.
Rookies John Wall of the Washington Wizards and Blake Griffin of the Los Angeles Clippers, meanwhile, rank Nos. 10 and 11 respectively.
The Lakers lead in in team merchandise sales for the 8th time in 9 seasons. The Celtics are No. 2 for the third straight season. The Heat, New York Knicks and Chicago Bulls round out the Top 5 in team merchandise sales.
Here's the Top 15 player jerseys list for the 2010/2011 season:
1) LeBron James, Miami Heat
2) Kobe Bryant, Los Angeles Lakers
3) Rajon Rondo, Boston Celtics
4) Amar'e Stoudemire, New York Knicks
5) Derrick Rose, Chicago Bulls
6) Dwyane Wade, Miami Heat
7) Kevin Durant, Oklahoma City Thunder
8) Carmelo Anthony, New York Knicks
9) Dwight Howard, Orlando Magic
10 ) John Wall, Washington Wizards
11) Blake Griffin, Los Angeles Clippers
12) Shaquille O'Neal, Boston Celtics
13) Ray Allen, Boston Celtics
14) Paul Pierce, Boston Celtics
15) Kevin Garnett, Boston Celtics