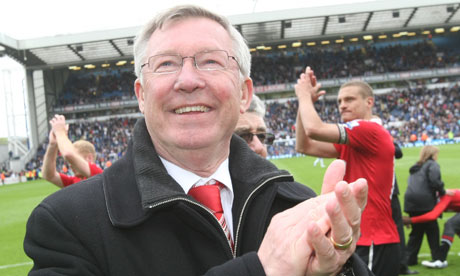 source:
Sports Network, LAtimes
Back in November 1986 when he was appointed manager of Manchester United, he was known simply as Alex Ferguson.
He had spent the past eight seasons in charge of Scottish club Aberdeen, and Ferguson raised a few eyebrows when he said that his intention upon arriving at United was to "knock Liverpool off their perch" as the most successful club in England.
At the time it was hard to take the statement too seriously because Liverpool was the gold standard in England with a record 16 league titles to its name, while United could only lay claim to seven.
And it wasn't exactly like Ferguson hit the ground running once he took over at Old Trafford, as United had to wait until 1993 for its first league title, ending a 26-year drought.
Yet a 1-1 draw at Blackburn on Saturday was enough for United to secure the league title for a record 19th time, officially knocking Liverpool from its perch.
United held a three-point lead over second-place Chelsea entering last weekend, but a 2-1 victory over the Blues put United on the brink of the title, and after the match, even Ferguson himself admitted that he was stunned by the fact that United was actually going to overtake Liverpool.
"I would not have believed it," Ferguson told the Telegraph when asked about what it meant to overtake Liverpool. "Once we got that first title (in 1993 after a 26-year wait) the door opened and we improved and improved."
The door didn't just open for United after its first title success in 1993, the Red Devils kicked it down, winning the league 12 times in 19 years, including four of the past five.
But even Ferguson knows that each season brings a new set of challengers, and he fully expects teams like Chelsea, Manchester City and Liverpool to push United next season.

"It was Liverpool's time in the '80s, it's our time now and we always expect them to challenge us and we also expect Manchester City to challenge us," Ferguson said. "The great thing about us is that we accept challenges. It doesn't matter where it comes from."
United's next challenge will come against one of the best teams in recent years in the final of the Champions League, as United meets Barcelona at Wembley Stadium on May 28.
Many people have been critical of United this season, talking about how this is not one of Ferguson's "vintage" teams, like the 1998-99 squad that won a historic treble, and along with it, added a Sir to the front of Ferguson's name, or the 2007-08 team that won both the league and Champions League in the same season.
To be fair, United didn't look like a title contender in the early part of the season as the team threw away leads late in games and struggled mightily to secure wins away from home.
In fact, United won just five times in 19 away matches in league play this season, but was saved by its impeccable form at home, where the team has won 17 of 18 games with a draw ahead of its final match of the season against Blackpool.
On paper, this team certainly doesn't compare to the '98-99 squad or the '07-08 team, but maybe it just speaks to the job that Ferguson has done this season.
United didn't go out and dominate the rest of the league like champions in the past have, the Red Devils merely did enough over the course of the season to come out on top.
But either way, now they can call themselves 19-time champions of England, and no one else, not even Liverpool, can do that.