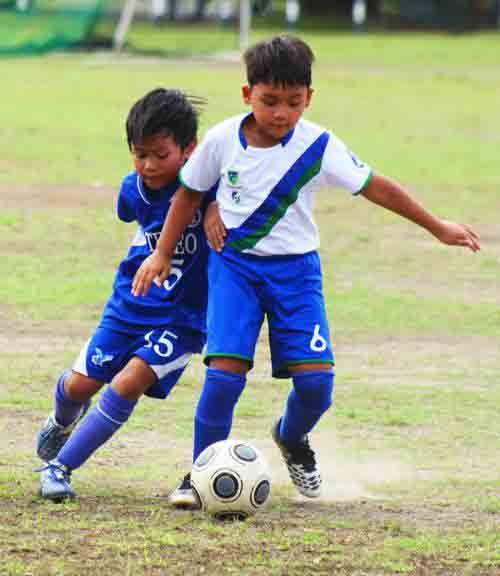 source:
by MAV C. GONZALES
"Free up space before you attack the goal!"
shouted Paref Southridge football Coach Ryan Lorenzo while watching his team play.
Spectators screamed for the two teams, while antsy parents fancied themselves coaches too while sitting in foldable chairs on the sidelines.
On the pitch, 22 guys play football in the Sunday morning heat like national pride is at stake.
Call them Azkal puppies. These boys aged 6-7 are among the best for their age.
It's actually just a friendly match between rival football grade school powerhouses Ateneo and Paref Southridge School, each fielding a team of incoming grade two pupils. Despite playing in their home pitch, the younger Ateneo booters fell to Southridge, 5-1.
Rivals
Ateneo and Southridge are like Ateneo and La Salle when it comes to kiddie football. Superb football programs can help explain why these two schools always happen to go up against each other in football championships.
"Ever since I started coaching – and I started coaching almost nine years ago – we always meet Ateneo in the championships of different football tournaments," explains Coach Ryan.

"Siguro it's because Ateneo and Southridge have very good football programs, compared to other schools that are not yet as organized."
Back in 2009, Southridge beat Ateneo in the RIFA Cup Championships. But the Blue Booters were able to get back at their rivals in their 2010 finals meeting.
"Best day ever," gushed eight-year-old Andy Roxas, Ateneo's main striker, kids about their revenge.
Start them young
"Yung mga daddy pa nila [2003 players] ang tinuturuan ko dati," laughs Ateneo Coach Lyndon Zamora who's been with the team for 16 years now.
He's pretty much seen the birth and development (literally and figuratively) of these kids, and he attests that it's always best to start a child young in sports.
Asked if he doesn't get headaches from rowdy children in football clinics, he just smiles and says,
"Behaved naman sila. Masaya at tsaka masarap turuan ang mga bata basta sumunod lang sila."
Most of the players in Ateneo and Southridge were born in 2003, long before the Azkals sparked a surge of popularity in the sport in the Philippines. That probably explains why there are only a handful of exceptional kiddie footballers in the country.
One of these is Amos Magsumbol, midfielder and second striker of the Ateneo squad.
Amos started playing when he was only three years old.

"Actually, I wanted him to try basketball. But nung nasa court na sila, he started kicking yung bola ng basketball," recalls his dad Tonio.
He eventually joined the Ateneo Football Club summer program where he scored all 11 goals in their 11-1 win over the other participants. Upon entering Ateneo prep school, he was immediately invited to join the football team. Now, he's one of the best defenders in his age bracket nationwide.
Future Azkals

While these kids still have a long way to go, it's not far-fetched that some may end up playing for the national team. In fact, both Ateneo and Southridge have represented the country in various international competitions.
Next weekend, the Southridge boys will fly to Singapore to compete in the Anza Tournament where they will be facing teams from Thailand, Malaysia and Singapore. Brazilian and Arsenal football clubs will also see action in the tourney.
"We're playing higher divisions in this competition so we're not expecting to win this year. But next year, given the experience we'll get, we're going to be contenders in that cup. Pati yung field memorized na ng mga bata by that time," says Coach Ryan.
The star of Southridge is its team captain and striker Sandro Roxas.
"Sandro's in a league of his own," says Coach Ryan.
And that's not just love for your own. Sandro is the back-to-back MVP of the Alaska Cup. Back in 2009, he scored 23 goals in just one tournament.
Since he's a forward, he idolizes Phil Younghusband of the Azkals and aspires to be a scorer for the national team too. The self-confident Fil-Chinese-Spanish mestizo says he also wants to grace billboards like his role model.
Still kids
Beyond their fierce encounters on the football field, these boys (or more appropriately little men – that's what their tans and fit little bodies tell me) are basically good friends.
And they don't forget to be kids despite their varsity duties. Take Andy for example. If he's not scoring 15 goals in one game, he spends his time playing soccer on his Play Station or collecting Match Attax trading cards.
And the reward after their tune-up game? Pizza. --
OMG/HS, GMA News