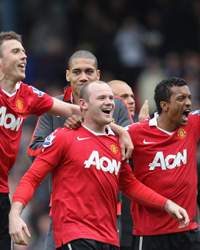 source: By Greg Stobart in Manchester
The City celebrated in style on Saturday after Mancini's side's FA Cup triumph and Premier League glory for Sir Alex Ferguson's men
As the team coach made its way back from Blackburn, a group of Manchester United players asked to be dropped off outside the city centre restaurant owned by Rio Ferdinand.

At almost exactly the same moment that the players were stepping off the coach, grown men could be heard screaming with delight from nearby pubs as the final whistle was blown at Wembley.

On this day, neither of the city's two clubs cared a hoot about their rivals, wrapped up in their own moment and determined to enjoy their own team's piece of history.

For United, that was a record-breaking 19th top flight title earned thanks to a 1-1 draw at Ewood Park; for Manchester City it was an FA Cup triumph, the club's first trophy in 35 years to signal their arrival as a major force in modern football.

In the 1970s and the 1980s, the two Merseyside clubs – Liverpool and Everton – used to regularly celebrate their joint domination of English football.

But it has never happened in Manchester that the city's two clubs have been simultaneously successful. There was a sense as the lager, vodka and champagne flowed on Saturday night that has finally changed.

In the trendy northern quarter, a busker strummed classic Oasis songs as he wore an early 1970s retro City shirt from the era of Francis Lee, Colin Bell and Mike Summerbee.

As throngs of nightgoers surrounded him, a street party ensued that put any Royal Wedding celebrations to shame.
Around the town hall, the pubs and bars were packed with United fans who had been out all day but had no intention of stopping their celebrations. A group of Red Devils fans took over the microphone at the Sayers Arms and starting running through United's extensive repertoire of songs, although '19' needs a bit of work.

No-one seemed quite crazy enough to wax their chest hair to honour their team's achievement – take note, Wayne Rooney – but there was no doubt that there was an unprecedented feel-good factor in Manchester. Not even a public appearance from Margaret Thatcher could have changed the mood.

As the night drew on, the shirts, scarves and flags made way for traditional Saturday night wear; the lagers were swapped for spirits; the ebullient conversation morphed into joyous, passionate chanting. Pubs, bars and nightclubs were all filled to capacity while families enjoyed a celebratory meal in one of the city's many fine restaurants.

In truth, there were probably a few more United fans out painting the town red. The myth that there are more City fans than United here is just that – a myth – and, after all, 30,000 City supporters had travelled down to London for the day.

But it got to the stage where you could no longer tell which club someone supported, so slurred were their words from the inebriating effect of both the alcohol and the glory. Women tottered in stilettos and short skirts but tried to make their allegiances clear with a red top or a sky blue ribbon around their wrist.

United are used to success but this was a new sensation for many City fans – in fact, any under the age of 40 will never have seen such a day in their lives. For a city in which the two football clubs mean so much to the people, that is rather a strange thought but revealing about how much this would have meant to their supporters.

Manchester United players including Rio Ferdinand, Wayne Rooney and Michael Owen posted pictures on Twitter as the night rolled on – and it also became one of the most interactive Saturday night's out you could wish to imagine.

Some eagle-eyed drinkers worked out which bar Sir Alex Ferguson's players were in and tried to join them – but the doors were locked, this was a private celebration away from the public eye and lurking paparazzi.

There is no suggestion that the United players were out getting rip-roaringly drunk, but they had clearly been given license by the boss to enjoy a few drinks, to relax for an evening before focusing on the Champions League final against Barcelona at Wembley on May 28.

More celebrations will follow. City will have an FA Cup parade on May 23 while United have scheduled their own parade for May 30, no doubt in the hope of hailing double glory in the Premier League and Champions League.

Many Mancunians will be feeling fragile on Sunday morning but few will have any regrets about celebrating in such style and none will want to forget that feeling of exhilaration.

It was a magnificent occasion and - contrary to concerns prior to the day about 'stealing thunder' - both sets of fans were happy to share the moment; comfortable enough to share a beer and give each other a pat on the back, a 'well done'.

This was one city united.