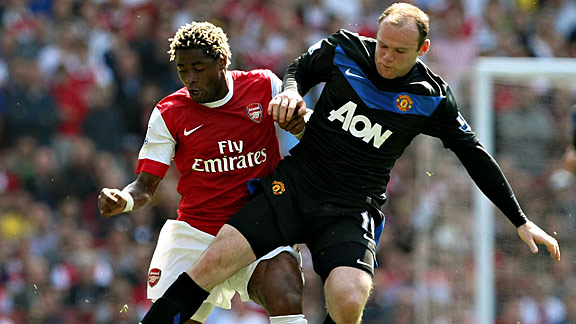 source:
By David Hirshey
Special to ESPN.com
Given that Roman Abramovich is one of the richest oligarchs on the planet, it's a hard to imagine that Chelsea is desperate for a handout. And yet the club's charity wing -- the We Didn't Spend $81 Million On Fernando Torres To Finish Second Foundation -- received two sizable gifts this past weekend from unlikely benefactors: a linesman named Mike Cairns and Chelsea's crosstown rival, Arsenal.
The first gift was delivered when Cairns wrongly awarded the Blues a goal on
Frank Lampard
's 30-yard shot that Spurs keeper
Gomes
almost butterfingered into his own net, the second time in two weeks that he tried that particular trick. Unlike in the Champions League match against Real Madrid, when Ronaldo's drive
squirmed through his hands
and into the goal, the ball this time stopped short of completely crossing the line, something that everyone but Cairns could readily see on HDTV replay.
God -- or Sepp Blatter -- forbid that the EPL would introduce goal-line technology to avoid these kinds of multimillion-dollar farces where an official, in this case, one who was more than 18 yards away, is forced to make an educated guess as to the micro difference between a goal and a save.
On this occasion, Cairns' erroneous call wiped out Spurs' 1-0 lead and set the stage for Chelsea to win this critical London derby in the 87th minute on a close-range shot from
Salomon Kalou
, whose offside position was even more painfully obvious. Final score: Linesmen 2, Spurs 1.
To his credit, Tottenham manager Harry Redknapp didn't go berserk after either blown call, a marked contrast to the histrionics that would have ensued had this happened to, say, Manchester United or Arsenal. But it's safe to say that the next time Redknapp runs into Blatter, he will lobby the FIFA boss for goal-line technology, or at the very least, to mandate that every referee crew comes equipped with a seeing-eye dog.
Certainly Chris Foy, the referee who oversaw the Arsenal-United game Sunday at the Emirates, would have benefited from having a specially trained Labrador. When he wasn't busy intercepting more Arsenal passes than
Park Ji-Sung
, Foy and his assistants decided to ignore two blatant penalties -- one against United's
Nemanja Vidic
for a flailing hand ball in the penalty box and another against Arsenal's Gael Clichy for tripping
Michael Owen
in the area. As it turned out, the botched calls balanced each other out, but the result did not.
In defeating their fierce rival for only the first time in their past seven matches, the Gunners showed that when not gagging on the crippling pressure of a title or cup final challenge, they can play with a relaxed confidence that is both easy on the eye and tough on their opponent. The world is a better place today -- and not just because Navy Seals killed the world's
most hated Arsenal fan
(I guess I move up in the rankings) -- but because the Gunners have finally ended their slide into third-place oblivion. Even Arsene Wenger smiled when
Aaron Ramsey
coolly slotted in the game winner from the top of the box, but unfortunately for the London side, Sunday's victory was a case of locking the bank vault when the robbers are in their getaway car.
Because of their epic swoon over the past six weeks in which they dropped 10 of a possible 24 points, the Gunners had a fork sticking out of their title hopes when they took the field against the league leader. All that remained of their lost season was to try to catch Chelsea for second place because, as Wenger assured us recently, finishing second is a worthy accomplishment. It should be noted that he didn't say anything about finishing third.
For United, there are only two options: its record-breaking 19th title or a boot in the face. Although this edition of Red Devils haven't exactly been playing with the same wow factor that epitomized some of their more glamorous predecessors, they have looked to be immune to the kind of pressure that asphyxiated Arsenal's title run.
The insolent ease in which United dismantled Schalke in the first leg of their Champions League semifinal suggested it was well-equipped both mentally and physically to handle the demands of playing in two high-level competitions at the same time. Yet Ferguson's side looked sapped of its usual energy against Arsenal, allowing the Gunners behind Ramsey and
Jack Wilshere
to pour forward with youthful abandon.
As a result, Sir Alex's coronation has been rudely delayed by a resurgent Blues team that since March 1 has astonishingly clawed back from being 15 points behind the league leader to now trailing United by three points. Even more remarkably, they can overtake the Red Devils at the summit should they win Sunday's Battle of The Two Teams That Have Taken Turns Running Away With The League Only To Thud Back To Earth.
I'll admit, as someone who anointed United champion a month ago, I didn't see the Chelsea freight train barreling down the EPL tunnel until it had squashed Arsenal beneath it and took aim at crashing through the Old Trafford fortress. Didn't it seem like 20 minutes or so ago that the Blues were struggling to hold off Man City for third place? And wasn't Carlo Ancelotti supposed to be a dead Italian walking, forced to suffer the humiliation of having to play an out-of-form
Fernando Torres
just to keep Abramovich happy?
"I always believed,"
John Terry
told the English press after Saturday's win, making him the only person in the free world who did. "Through the season you have good spells, some not-so-good spells, and some bad patches as well," the Chelsea captain added with incontrovertible logic.
This presumably is a good spell for Chelsea, Saturday's win being its fifth straight in the league. But for all their revitalized form, the Blues face a daunting task in prying the trophy from Sir Alex's cold, grasping hands. Even if they were to somehow beat United at home, where the Red Devils haven't been defeated this season, they still face a tricky run-in, hosting Newcastle and traveling to Goodison Park to face the league's least hospitable team in Everton. Given the close, almost paternalistic relationship between Sir Alex and his fellow Scot David Moyes, you have to think that Everton will do everything in its power to help out Fergie even if that means playing more than a lone striker.
United, meanwhile, gets to rendezvous with a couple of bottom-feeders in Blackburn away (Berba & Co. hung seven on them in November at Old Trafford) and Blackpool at home. As tempting as it is to imagine that this weekend's two breathless results have shifted the balance of power in the EPL, it is simply a romantic notion that extends the drama of the title race for another week.
Ferguson will make sure this coming Sunday there is neither a visually impaired linesmen nor a depleted United team suffering from the rigors of the Champions League -- its two-goal margin over Schalke should allow him to rest some key players for the second leg at home on Wednesday.
Sir Alex may have been caught out by Arsenal's surprising gusto, but he's never been the type of manager to let his side fall flat in big games two weekends in a row.
Let's face it, the only benevolence that Old Trafford will show Chelsea is to remind the Blues that there is no shame in finishing second.