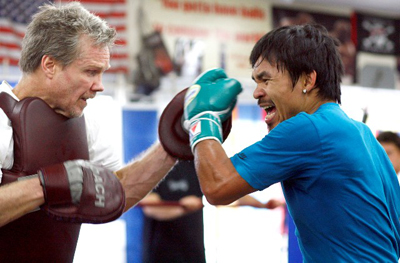 source:
BAGUIO CITY, Philippines—For chief trainer Freddie Roach, Manny Pacquiao's fight strategy against
Shane
Mosley
on May 7 is a work in progress.
While doing the mitts with Pacquiao, Roach noted every punch thrown, avoided and absorbed. He conferred with Pacquiao from time to time and took suggestions from the world's only eight-division world champion.
Then the trainer and the fighter tried to put these plans into motion.
While he used to complain about the many training distractions, Roach was all praises this time for Pacquiao's newfound enthusiasm.
"Last week was really great, he's very motivated," said Roach, who gave Pacquiao a passing mark in their first week of training here. "He knows it's not an easy fight and I love it that he knows that. I expect him to get better."
Roach said Pacquiao's first week of training was the best he had with his ward since 2001, when they first teamed up, but he was inclined to follow their original training calendar.
"He's been off for a while, he still has some bad timing," the trainer said. "We're not ready to fight yet, but we're getting there."
Roach said sparring has been set for Tuesday, when Pacquiao's training partners—super welterweight Shawn Porter and lightweight David Rodela—have already acclimatized to the Baguio weather. The two planed in from the United States late Sunday night.
Apart from Porter and Rodela, who shook off jet lag with a light workout on Monday, Roach said he would add two more spar mates during the second half of training camp at his Wild Card Gym in Hollywood.
"One is from San Francisco, who fights like Shane," said the five-time Trainer of the Year.
Roach also announced that Pacquiao would not spar with
WBA
junior welterweight champion Amir Khan, who has been training at the Cooyeesan Hotel here, due to conflict in schedules.