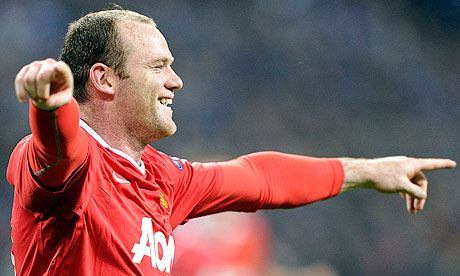 source:
Paolo Bandini
Few doubted that
Manchester United
would progress to the
Champions League
final following their 2-0 first-leg win at the Veltins Arena, but the reactions in Germany to
Schalke
's 4-1 thrashing at Old Trafford have still been mixed. Bild was scathing in its assessment of Ralf Rangnick's side, saying they had "embarrassed themselves", but Westdeutsche Allgemeine Zeitung's Frank Lamer had a more generous take.
"Despite the 1-4 battering at Manchester United, Schalke's performance in the Champions League this season has been impressive," Lamer wrote. "Schalke played against the best of Europe – and also the best of Manchester United's B-team. That tells a story."
Bild did reserve a more sympathetic stance for Raúl, who, with Schalke failing to qualify for next year's tournament, may have played his last game in the competition. "Raúl endured a very sad exit from the Champions League," it said. "He struggled a lot, ran over 10km. Again and again he let himself fall back into midfield because he got no balls forward. All the work did not help: he managed just one shot on goal and could not prevent Schalke's departure at the hands of England's top club."
But the German newspapers were not the only ones watching this fixture closely. In Spain the excitement is already building ahead of the repeat of the 2009 final. After noting that this will be the teams' seventh meeting since 1984, Mundo Deportivo said: "Barça v Manchester United has become a clásico of European football."
The same newspaper polled its readers on which Manchester United player they feared most. At the time of writing Wayne Rooney leads the way with 46% of the vote, followed by Javier Hernández on 31%. Just how afraid those fans are, however, is open to debate. A concurrent poll shows that 85% of readers expect
Barcelona
to win.
There is a clear acknowledgement elsewhere, however, of the strength of this United team. "For Manchester United football is a game in which winning comes naturally," said Jordi Quixano in El País. "The method doesn't matter, only the result. From infinite resources, they are just as capable of playing a fancy football, as they did at the Veltins Arena, as a rough game, based on the counterattack, as they did at Old Trafford."
From the rest of Europe comes similar praise. In France, L'Equipe's headline describes Sir Alex Ferguson's team as "Beautiful Devils", while Italy's Gazzetta dello Sport looks ahead to the final.
"So it will be," wrote Gazzetta's Luigi Garlando. "Rooney against Messi, old man Ferguson against young man Guardiola, organised physicality against skilful ballwork, a Manchester United team who have reached three finals in the past four years against a Barcelona team who have played in three of the past six. On 28 May at Wembley football will celebrate by showing the very best of itself."
In the same newspaper, Alessandro De Calò strikes a similar note.
"This final is an advert for good football. We need to watch and steal something (or someone). Or at least understand how it's done."