source:
REY JOBLE, GMA News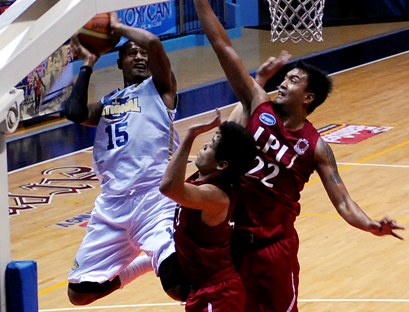 Cameroonian center Emmanuel Mbe and guard Bobby Ray Parks could form the future of National University in the UAAP men's basketball tournament.
But will they be able to play in the country's premier collegiate league this year?
Athletic directors Junel Baculi of NU and Ricky Palou of Ateneo had mixed reactions regarding the eligibility status of Parks, son of seven-time Philippine Basketball Association Best Import and Hall of Famer Bobby Parks.
Palou, who represents Ateneo in regular board meetings, explained to GMA News the requirements for Fil-Am players, who have already played elsewhere, but intends to play for a college team in the UAAP.
"The Fil-Am player will need to sit out for two years and serve the necessary residency rule," Palou said in a telephone interview. "And there's no exception to that rule."
Baculi, on the other hand, is aware of the two-year residency, but stressed that there's an existing rule for Fil-Am players. Parks has already served a year of residency and is now playing for the Bulldogs' team in the Filoil Flying V Preseason.
"I know that there's a two-year residency rule for Fil-Am players who played elsewhere, but intends to play for a collegiate team in the UAAP. But there's an existing rule that gives exemption to certain players. Of course, we cannot divulge the details at this time as we don't want to preempt our plan for the coming board meeting," said Baculi, a multi-titled basketball coach in the Philippine Basketball League.
According to Baculi, the UAAP board is set to meet on Friday, May 6, and all participating teams in basketball will be asked to submit their line-ups.
But a member of the UAAP board who requested anonymity said the two-year residency rule for Fil-Ams should be implemented without any exemption as in the case of Mike Silungan of University of the Philippines.
"Mike Silungan waited until last year before he was allowed to play for the Fighting Maroons. Kasi, kung one year lang yun, dapat puwede na siya maglaro nu'ng 2009. So I guess the rule should be applied the same to Bobby Ray," said the source.
Far Eastern University board representative Anton Montinola, who is currently in the United States, sent a text message to GMA News to give his thoughts on the existing rule for Fil-Ams.
"Based on the exiting rule, it should be two years," said Montinola. "The eligibility committee will meet to discuss any appeal."

Georgia Tech disappointed on Parks' decision
Bobby Ray is one among the few Fil-American players who was given a chance to play for an NCAA Division I school — Georgia Tech, the same school that produced NBA superstar Chris Bosh of the Miami Heat, Jarrett Jack of the New Orleans Hornets and retired players John Salley, Mark Price, Dennis Scott and Matt Harpring.
The 6-foot-3 incoming freshman signed a letter of intent to play for the school, but opted to go to NU, an up-and-coming team in the UAAP.
In an interview with SI.com, the website of Sports Illustrated, Georgia Tech coach Brian Gregory couldn't hide his disappointment.
"It's the strangest recruiting situation I've ever seen. Georgia Tech is likely to grant Parks his release, but will he ever play again in the US?," said Gregory.
Parks was one of the two players listed by Georgia Tech as committed to play for the Yellow Jackets squad. The other player was Julian Royal.
According to SI.com., the Yellow Jackets were impressed by the numbers Parks posted at the Nike Global Challenge in Hillsboro, Oregon, in August last year. As the lead guard on the All-Asia team, Parks averaged 22 points, 44.4-percent three-point shooting average.
But the younger Parks opted to play for NU where his dad works as a sports development director for the school.
The elder Parks, however, told SI.com that it's not easy for his son to choose between an up-and-coming UAAP school to a US NCAA school that produced NBA stars.
"I hope you'll write something positive about him," said Parks. "He's made a lot of sacrifices."
NU coach Eric Altamirano refused to comment on Parks' situation.
Vacation or basketball career in France for Mbe?
The rumors regarding Mbe seeking a basketball career in France broke out in the UAAP inner circle.
And the proof became stronger when an exeutive from the French Embassy confirmed that Mbe asked for a visa as "he will use it to tryout for teams in France."

"He said he's headed Paris onwards," said the executive, who refused to be identified. "His visa was released three weeks ago."
Baculi and Altamirano did confirm Mbe left the country, but the cager promised he will be back by May 6.
"Well, he told us he will go there (France) for a vacation," said Baculi. "But I'm banking on his word that he will come back by May 6."
Altamirano said he's been communicating with the Cameroonian center recently.

"We've been communicating through Facebook and told me he's on his way back in the Philippines. He just went there to attend to personal matters,"
added Altamirano, the team's first year coach, who too over the chores vacated by Eric Gonzales. -
GMA News